Profile
Ken Sweeney was a successful amateur jockey for some 11 years. He decided to have a change of 'pace' in 1970 and gained a trainers licence. He was the leading trainer for 8 years in a row, winning the S.D.R.A premiership - this covered a very large area of the Riverina. The stable decided to try their luck in Sydney, and visited on many occasions with great success. Ken also raced thoroughbreds in Melbourne and Adelaide, where horses had the chance to 'strut their stuff' in new surroundings!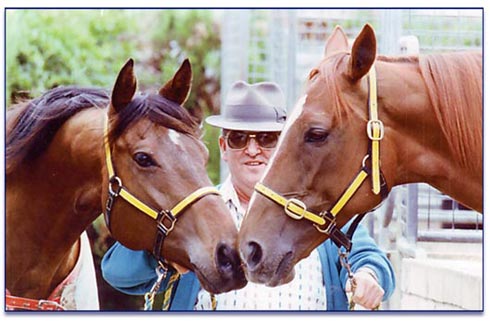 Nowadays, Ken resides at Morphettville, a walk around the corner to the stables.
During Ken's time at Morphettville he has been mentor to a number of successful apprentice jockeys now senior riders - Jarrod Lorensini, Matthew Neilson achieved 'dux' of the class, Ben Claridge another of note.
Ken has been married to Cheryl for 42 years, they have a son Jason who has worked alongside his parents for years. Ken's brother Phillip has been the Jerilderie Complex foreman for many years, the Adelaide foreman Rom Mirelli has over 14 years service with the Sweeneys. Staff between Morphettville and Jerilderie consists of thirteen.
"2000 plus winners!"